EDIT MAIN
Jourdanton High School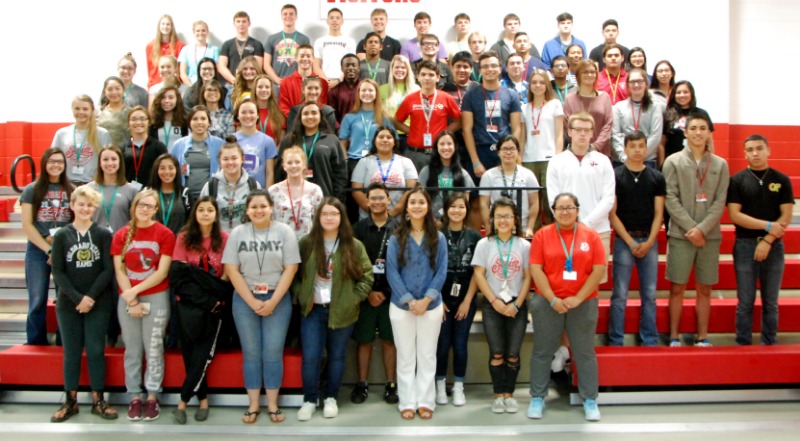 200 Zanderson Avenue
Jourdanton, Texas 78026
Phone: (830) 769-2350 Fax: (830) 769-3065
JHS has an enrollment of approximately 480 students.
In the 2018-19 school year, Jourdanton will compete in the following UIL districts:
Conference 3A Division 1, Region 4, District 15 - Football
Cotulla
Jourdanton
Karnes City
Lytle
Marion
San Antonio Cole
Universal City Randolph
Conference 3A, Region 4, District 30 - Volleyball, Cross Country, Basketball - girls and boys, Softball, Baseball, Tennis - girls and boys, Golf - girls and boys, Track - girls and boys:
Cotulla
Dilley
Jourdanton
Laredo Harmony School of Excellence
Natalia
Lytle
JHS students are very successful in One Act Play, Band, Winter Guard, Academic UIL events and Agricultural competitions. Many students are members of organizations; such as, FCCLA, FFA, History Science Club, Spanish Club, FCA, TSA, Robotics and BPA.
Students at JHS participate in many extracurricular athletic activities, including Football, Basketball, Volleyball, Track, Baseball, Tennis, Golf, Cross Country, Powerlifting, and Softball.
Click the link to view a brochure of the Career Clusters and Courses for Career and Technical Education at Jourdanton High School.
2018-2019 Campus Improvement Plan
| | |
| --- | --- |
| Principal | Virginia Parsons |
| Assistant Principal/Campus Behavior Coordinator | Nathan Flynt |
| Counselor | Marie Fanno |
| Registrar | Melissa Gibson |
| Attendance Clerk | Raney Schuchart |
Jourdanton ISD is no longer a testing site for GED and any records or questions need to be directed to TEA at (512) 463-9292, website Texas Education Agency or to Region XX (210) 370-5200
Class Representatives
October 23, 2018
FRESHMAN CLASS
Dues: 1st Sem $ 25 / 2nd Sem $30 Pay to Mrs. Garcia

* CLASS SPONOSORS *

President: AIDEN GUZMAN

Vice-President: SAWYER HUGGINS

Secretary: MADI VICK

Treasurer: MACEY BRIONES

Homecoming Reps:

JUSTIN LEDESMA &

ALEXUS RODRIGUEZ

Student Council Reps:

ROBERT MIRNADA & ALLY FOSTER

JUNIOR CLASS
Dues: 1st Sem $40 / 2nd Sem $60Pay to Coach Holland

* CLASS SPONOSORS *

President: CORT HINDES

Vice-President: SHYANNE BAUERLE

Secretary: ETHAN BEDINGFIELD

Treasurer: CASEY BURNS

Homecoming Reps:

JUSTIN AKERS &

ALLIE TOUCHSTONE

Student Council Reps:

ALEX GALVAN & CARLI FOSTER

SOPHOMORE CLASS
Dues: 1st Sem $30 / 2nd Sem $40Pay to Mrs. Borth

* CLASS SPONOSORS *

President: KRISTIN MUELLER

Vice-President: COLE ANDRUS

Secretary: MADISON YOW

Treasurer: MICHAEL HOWARD

Homecoming Reps:

JOSH ISAAC & ISELA WILSON

Student Council Reps:

TY SMOOT & JENNY VRANA

SENIOR CLASS
Dues: 1st Sem $50 / 2nd Sem $60Pay to Mrs. Herbst

* CLASS SPONOSORS *

President: RITA LUGO

Vice-President: KIMBERLY MUELLER

Secretary: ABBIE LANIER

Treasurer: CLARISSA MUNOZ

Homecoming Reps:

SEAN BISCAINO &

BROOKE BURKHOLDER

Student Council Reps:

LOGAN HUERECA & SYDNEY BRIONES